Time in Residence
Once your Filipino spouse has met her time requirements as a permanent status resident, she can file for US citizenship. The time requirements are three years if you were already married more than two years on her first obtaining permanent status, or five years if you were married for less than two years on her first obtaining permanent status. She may file ninety days in advance of meeting her time requirement. The time requirement does not include time she was out of the US for more than 30 days. If she was out of the US more than six months, she may have lost her permanent resident status. Unless a genuine family emergency arises, it is best not to travel outside the US during this waiting period.
Form N-400
The application for US Citizenship is made on Form N-400. This is a 10-page form, available for free on the internet, and is relatively easy to fill out. Just be consistent with whatever documentation you have previously submitted for immigration. Be sure to attach copies of all requested documents, such as marriage certificate, birth certificates, and prior divorce decrees. The fee for submittal is $675 ($600 for the application, and a $75 biometric fee for your fingerprints). The fee must accompany the N-400 submittal, and is non-refundable. The applicant will receive a Form I-797C Receipt of application and payment in one to three weeks.

Fingerprinting
About two weeks to a month after submission of the above package, the applicant will receive a Form I-79C7 Notice of Action requesting she appear for fingerprinting, usually at an Immigration service center nearest her. She must take the Form I-797C notice and a separate government-issued photo ID with her to the fingerprinting station.
Test on US History and Government, and Test of English
In order to gain US Citizenship, the applicant must pass a test demonstrating a sufficient command of English, and a test on the US History and Government. The US government publishes the entire set of test questions, with answers, and also several very good documents on US history and US government - all for free, downloadable from the internet. There is no real excuse for failing the tests, but applicants who don't take the tests seriously, or didn't study in advance for the tests, have failed them. So the word to the wise is - study for the tests well in advance of the interview date
Naturalization Interview
A few weeks after the fingerprinting, your spouse will receive an form N-xxx notice to come in for the US Citizenship Interview and tests. Take the notice with her, together with any other requested documents. The notice will be retained by the interviewer, so if you want to retain a souvenir copy of the notice, make one before the interview. This is the final interview and tests for her to receive her US citizenship, but citizenship does not actually confer until the Oath-Taking ceremony has occurred. During the interview she will be alone with the interviewer, and her American spouse will not be allowed to accompany her. The tests are not hard if she has studied for them. They may cover both oral and written material testing her command of the spoken and written English language, and her knowledge of the US government and US history. If she passes or fails the tests, she will be told, and she will also receive an official Form N652 - Naturalization Interview Results, in the mail.
Naturalization Oath Ceremony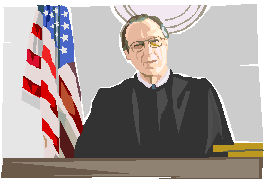 A few weeks after passing the Naturalization Interview and Tests, the applicant will receive a form N-445 - Notice of Naturalization Oath Ceremony, giving the location and date of the oath-taking ceremony. This is a required final step to become a US citizen. The oath is administered by a US federal judge. The ceremony is very formal, with orchestra, flag ceremony and speeches. You wont be allowed to enter or attend unless you are suitably dressed (suit and tie for men, dress or pant-suit for women.) Even your guests will be barred if they arrive in T-shirt and shorts. It is common for several hundred persons to be naturalized in one mass ceremony. Because of the number of applicants to be processed, she may be required to appear a few hours before the ceremony. The ceremony itself usually lasts about an hour.
If she misses the ceremony, she is not a US Citizen, but she will be given another chance to attend another ceremony. Take the notice with her, together with her permanent resident card (green card), and any other requested documents. The notice and her permanent resident card (green card) will be retained by the staff at the ceremony, so if she wants a souvenir copy of the notice or green card, make a copy before the ceremony date. The oath-taking ceremony is the final action that confers US citizenship on her, and at its conclusion she will receive her Certificate of Naturalization. This is a very important document, so guard it well.
Voter Registration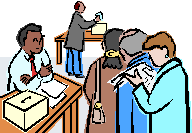 As a new American citizen, she can legally register and vote in American elections. I say "legally" because the voter registration laws are very lax in some quarters, and/or laxly enforced. And many illegal aliens do register to vote and actually vote. Don't let this national shame of widespread voter registration fraud deter her from registering to vote and voting in federal, state, and local elections. In most areas, registering can be done by mail without ever having to show proof of identity or citizenship. Voting privileges are associated with a specific address of residency within a county, so in most counties she has to have a permanent address within the county where her voter registration certificate will be mailed.
US Passport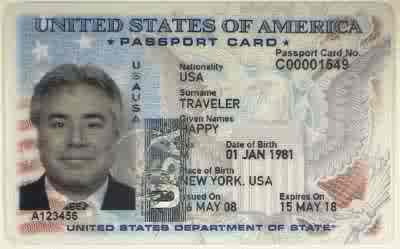 With her US naturalization certificate in hand, and another government-issued ID, such as a driver's license, she can apply for a US passport. The US Passport comes in two forms now -- the standard multi-page book, and a new wallet-sized plastic card about the same size and thickness as a credit card. The card is not good for international air travel, but can be used for re-entering the US coming by land or sea from Canada, Mexico, the Caribbean or Bermuda, by car or boat at any land or sea entry port. Entry coming by air from any foreign point of embarkation outside the US will require the passport book.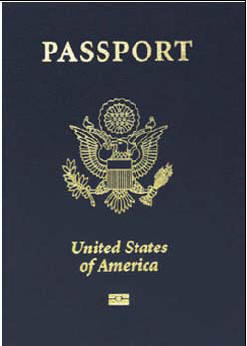 She may apply for both the book and the card, but the book is the do-all, air-land-sea document, and a separate pass-card is not required. She can apply at a US Passport Office or a US Post Office. Not all US Post Offices process passport applications, and those that do require a prior reservation and charge an additional processing fee. Most of them also will take passport photos for an additional fee. The original naturalization certificate will be attached to the passport application. The naturalization certificate will be returned to her separately a week or two after she receives her US Passport. If she is getting both the book and the card, they will also be sent in separate mailings. Normal passport processing time is three to four weeks.
The US is unique in that there is no passport control to exit the country. But the returning US citizen must enter the US on their US passport if they hold dual or multi-nationalities. Subsequently entering the US on a foreign passport could jeopardize her newly-acquired US citizenship.